Geiger Announces A Third European Acquisition in 2019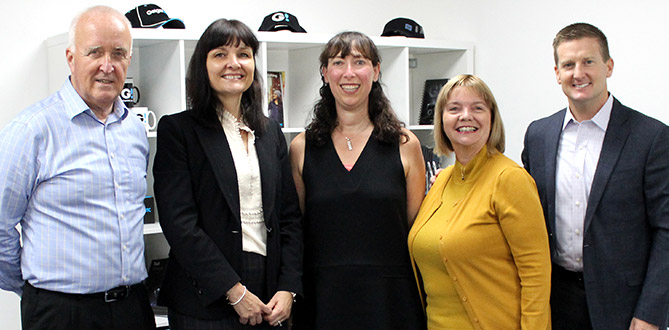 Attached: photo L to R: Frank Murphy, Fran Stobart, Carrie Benn, Jo-an Lantz, Chris McKee
London, UK October 22nd 2019:UK Distributor GeigerBTC (https://www.geigerbtc.com), a subsidiary of Geiger, a multi-generational family owned and operated company in the US, announced it has acquired London based distributor Shout Promotional Merchandise as part of their continued expansion strategy to support clients in the UK and across Europe.
Shout Promotional Merchandise has been in business since 2003 and has gained a reputation as one of the most innovative promotional merchandise distributors in the UK. GeigerBTC made the acquisition as part of their ongoing strategy to support the needs of global customers in North America, Europe and worldwide.
Shout Promotional Merchandise Director Carrie Benn said, " It's such an exciting opportunity for us to be part of a global company. The facilities Geiger has will enhance the service we give to our clients."
Shout Promotional Merchandise Director Francina Stobart shared, "After 16 years of leading Shout, we are very much looking forward to a new challenge."
"We could not be more pleased that Fran Stobart, Carrie Benn and the team from Shout are joining GeigerBTC," states Geiger President Jo-an Lantz. "Shout has a creative, energetic vibe, with a large team of professional marketeers with the experience of working with premier international companies."
Frank Murphy, Managing Director of GeigerBTC adds "Fran and Carrie are two exceptional business owners. They have built an amazing company. We could not be prouder to welcome them into the Geiger family."
About Geiger and GeigerBTC
Headquartered in Lewiston, Maine, Geiger is the largest family-owned and managed promotional products distributor in the world. Geiger operates from offices across the US and London, England and is affiliated with over 450 independent sales representatives. Geiger is a socially conscientious company, providing proactive, comprehensive marketing solutions to their clients. GeigerBTC was founded in 1977 and is based at Hayes in Middlesex and has a staff of 80. A full-service brand marketing firm, GeigerBTC offers on-site decorating, distribution, fulfillment, web development and customer corporate programs, and employee store expertise.