Geiger's UK office retains Platinum Rating from EcoVadis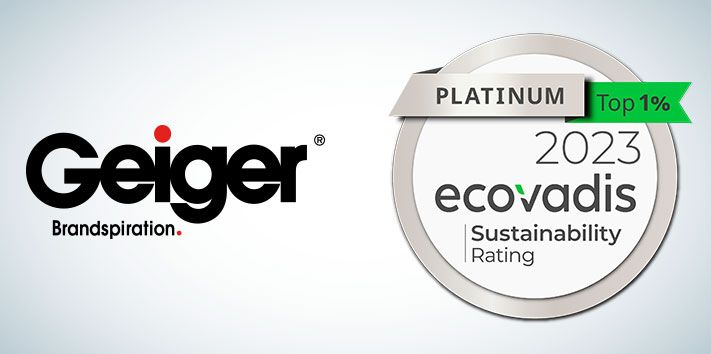 July 25, 2023 – London, UK – Geiger is delighted to announce they have been awarded a platinum rating for their UK location for the second year in a row from EcoVadis's 2023 sustainability assessment. Geiger UK has maintainedits 2022 status and retained its position among the top 1% of more than 100,000 companies rated worldwide by EcoVadis.

EcoVadis is the leading collaborative platform for sharingsustainability data between businesses and theworld's most trusted provider forassessing corporate performance in the field of sustainable development.
The assessment itselfcovers four pillars: Environment, Labour & Human Rights, Ethics andSustainable Procurement. To receive the very highest rating of Platinum,companies need to score above 75% overall across all pillars. Geiger achieved a score of 82% in their overall assessment,improving on their 2022 score, including a score of 90% in the Environmentalpillar, with additional sustainability reporting, advanced sustainabilitymanagement system and new sustainability certification being positivelyhighlighted.
Geigeris a world leader in their sector of providing branded merchandise solutions,and this award and recognition reaffirms that they are leading the way with environmentaland social goals.
Procurement Director, Steve Wickham commented, "Weare thrilled to receive a Platinum rating from EcoVadis in this year'sassessment. The result demonstrates our position as a leader in sustainabilityin our industry and how we are implementing our strategy and moving oursustainability journey from pledge to genuine progress. It's also a reflectionof our on-going commitment to continual improvement and to minimising ourenvironmental footprint as a business."
Wickham continued with, "We areespecially pleased to have achieved a score of 90% on the Environmental pillaras this highlights the dedication of our suppliers, customers, and internalteams to encourage responsible consumption and support positive climate action."
"This recognition and our huge Environmental score increase, reinforcesto our customers and partners that creating value to society is at the heart ofour business. We will continue our efforts through our corporate SustainabilityPledge across our internal business and entire global supply chain" added Vicky Kinasz, Managing Director of GeigerInternational.
Geigerhas shown long term commitments to operating sustainably and completed buildingtheir new corporate headquarters in Lewiston, ME in 2018. The LEED GoldCertified building is 100% powered by Geiger's nearly 700-panel solar array.
ABOUT GEIGER
Geiger is thelargest privately held and family-owned promotional products distributor in theworld. A fifth-generation business headquartered in Lewiston, Maine, Geigeroperates from offices throughout the U.S. and Europe and is affiliated withmore than 450 independent sales representatives. Geiger is a socially andenvironmentally conscientious company, providing proactive, comprehensivemarketing solutions to their clients.